Description
Lifestyle Ispaghol Husk is increasingly popular food supplement used for weight control and intestinal health. Basically, it's a godsend for anyone who doesn't get enough fiber from their diet.
Lifestyle Ispaghol Husk consists of a spongy fiber that
Reduces Appetite

Improves Digestion

Cleanses the system
Directions:
As a dietary fiber supplement, add 1 – 2 Tbsp. of Lifestyle Ispaghol Husk to juice, water, milk or yogurt, one to three times daily.

Mix well by stirring, blending, or shaking and drink immediately.
Nutritional Value: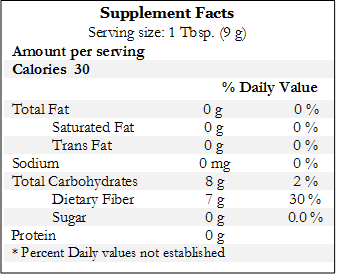 Pack Size:
Lifestyle Ispaghol Husk is available in:
| | | |
| --- | --- | --- |
| Pack Size | Bar Code / GTIN No. | Price |
| 5 g Sachet | NA | 10.00 /- |
| 25 g Box | 8964000014059 | 90.00 /- |
| 50 g Box | 8964000014066 | 1880.00 /- |
| 80 g Jar | 8964000014004 | 300.00 /- |
| 100 g Box | 8964000014073 | 350.00 /- |
| 150 g Jar | 8964000014011 | 540.00 /- |
| 250 g Jar | 8964000014028 | 900.00 /- |